Posted by Donair Wilmouth on Oct 24, 2016
We need your voice to help us end polio now. Get involved and spread the message that we can end the second human disease in history.
Since Rotary and its partners launched the Global Polio Eradication Initiative nearly 30 years ago, the incidence of polio has plummeted by more than 99.9 percent, from about 350,000 cases a year to 26 confirmed as of Sept. 19, 2016. To sustain this progress, and protect all children from polio, experts say $1.5 billion is urgently needed. Without full funding and political commitment, this paralyzing disease could return to previously polio-free countries, putting children everywhere at risk.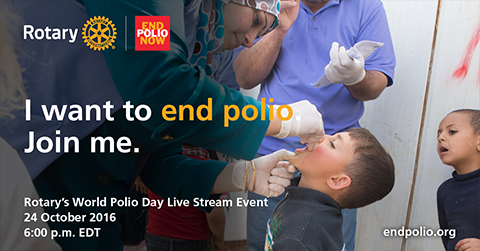 Rotary brings together a global network of volunteer leaders dedicated to tackling the world's most pressing humanitarian challenges. Rotary connects 1.2 million members of more than 35,000 Rotary clubs in over 200 countries and geographical areas. Their work improves lives at both the local and international levels, from helping families in need in their own communities to working toward a polio-free world. Visit
endpolio.org
for more about Rotary and its efforts to eradicate polio.